Commercial Outsourcing
At Prosales we manage and carry out a comprehensive commercial outsourcing service to maximise your sales effectively and reduce costs. We have a specialised professional team divided into sectors to offer the best service to those companies that need to outsource a commercial team.
Based on our experience in the area of human resources and having the latest innovations in commercial support tools, we offer the highest quality service.
Our customers see us as their allies because outsourcing to Prosales, a specialised company with in-depth knowledge of the sector, is not only beneficial for reducing operating costs, but the competitive advantage is also reflected in the results.
We manage commercial outsourcing at any level
Commercial outsourcing makes it easier for companies to adapt to changes in the market. Therefore, to offer a quick response, we have sales teams, sales promoters and telephone sales specialists.
Our 360º function helps customers to better carry out business relationships, drive sales, achieve the KPI's previously defined in the objectives and follow up on the marketing strategy. Thanks to this process, the advantages of commercial outsourcing are manifold:
Increased productivity
Greater flexibility
Risk reduction
Resource assessment
Cost optimisation
WHY CHOOSE PROSALES?

Do you need to plan and control the visits to your customers, as well as their frequency?

Do you have a good incentive system?

Do you need to know more about the competition?
We can help you:
Fulfilment of sales objectives

We define the objectives with the customer, and we focus 100% of our team on obtaining results: our sales team follows guidelines for preparing, carrying out and analysing sales visits in order to maximise the final sales result.

KPIs and commercial activity tracking (Power BI)

KPIs and commercial activity tracking (Power BI)

Exclusive sales manager for each project

We coordinate the day-to-day work of the sales team, but with a long-term vision for a sustained improvement of results over time.

Ad-hoc selection of profiles

From our own recruitment department, we select and hire the profiles that best fit the characteristics of the service.

Variable cost based on sales achievement

So that you pay a fair price for the sales we get. No surprises.

Joint definition of customer target

With you, we assess what type of customer we are going to focus our commercial activity on.

Including all the material required to make the sale:

PC, car, smartphone...

Continuous training plan for sales staff

We always keep our sales team trained in sales techniques and knowledge of the sector.

Design of everyday business activity

We set up planning and control of the daily sales calls.
Frequently Asked Questions about Commercial Outsourcing:
How to get more sales?
Sales outsourcing can boost sales growth.
There are companies that offer comprehensive services that include the commercial network (points of sale, teams and promoters or merchandisers), strategy (consulting, definition of objectives or KPI's) and audits. Along with this, the market is studied so as to increase the visibility of the products and produce greater results.
Why outsource a service?
The demand for outsourcing is on the rise, and companies should focus on their core business and outsource those services that do not generate a profit. Outsourcing to a specialised company is beneficial to both parties, since both are doing what they specialise in, providing the maximum value throughout the whole process.
Mapa interactivo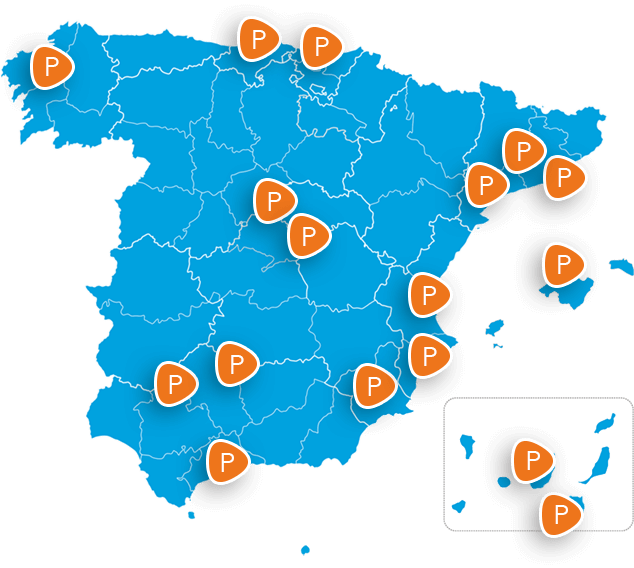 National presence.
including the Balearic and Canary Islands
¡Descubre nuestro mapa interactivo!
We are a human team with more than 20 years of experience
helping our clients to grow and achieve their goals.
Contact
We will be happy to help you